Pickled Jalapeño Kettle Cooked Potato Chips!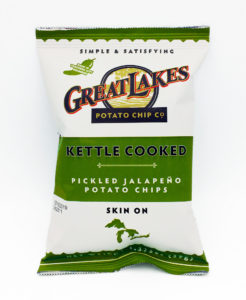 The newest flavor is a real hit! Great Lakes balances the heat of the jalapeño with the forward flavors of vinegar and herbs. Not too spicy – just hot enough to keep your customers coming back for more! Pickled Jalapeño Potato Chips are a perfect partner for sandwiches.
No dairy, no gluten and no artificial flavor enhancers.
1.375 oz.- 24/case